After months of enviously side-eyeing our iPhone-wielding friends, Fortnite on Android is finally here. In beta, at least.
The runaway success of Epic's cartoonish battle royale shooter, which sees 100 players duke it out on an island map to be the last fighter standing, has already seen it come to Xbox One, Playstation 4, Nintendo Switch, and iOS.
While Samsung Galaxy phones got something of a headstart, the beta is now starting to roll out across a wider range of Android handsets.
First thing's first: you won't find it on the Google Play Store like all your other apps. This is partially to 'build a direct relationship with players' but maybe largely to avoid giving Google a 30% cut on purchases of the app.
There have been a lot of rumors floating around what this means for players, so we've set out exactly what you need to go to start playing Fortnite on the go.
1. Check your phone can play it
COMING TO THESE ANDROID DEVICES:
Google: Pixel / XL, Pixel 2 / XL
Asus: ROG, Zenfone 4 Pro, 5Z, V
Essential: PH-1
Huawei: Honor 10, Honor Play, Mate 10 / Pro, Mate RS, Nova 3, P20 / Pro, V10
LG: G5, G6, G7 ThinQ, V20, V30 / V30+
Nokia: 8
OnePlus: 5 / 5T, 6
Razer: Phone
Xiaomi: Blackshark, Mi 5 / 5S / 5S Plus, 6 / 6 Plus, Mi 8 / 8 Explorer / 8SE, Mi Mix, Mi Mix 2, Mi Mix 2S, Mi Note 2
ZTE: Axon 7 / 7s, Axon M, Nubia / Z17 / Z17s, Nubia Z11
Before you go any further, it's worth checking your phone is actually compatible with Fortnite. While the game has been optimized to play on mobile, older phones simply aren't up to the performance standard needed to run the game.
A post on Epic's website has confirmed the beta's now running on the following Samsung Galaxy devices: S7 / S7 Edge , S8 / S8+, S9 / S9+, Note 8, Note 9, Tab S3, and Tab S4. It's currently being rolled out to other Android devices over the next few days (see box, right).
2. Change your security settings
This is probably the easiest step to overlook. First you need to allow your Android device to install and run apps downloaded from other places. Be cautious when you turn on this setting, as you'll want to make sure you only download apps you know are safe and reliable.
There are already reports of fake Fortnite apps doing the rounds, so make sure it's only Epic Game's official version to avoid downloading malware to your phone.
Head to your phone's Settings tab: on Android phones, usually a small cog icon found in the drop-down header bar. Then scroll down and next to where it says 'Unknown sources', tap the toggle to turn this setting on.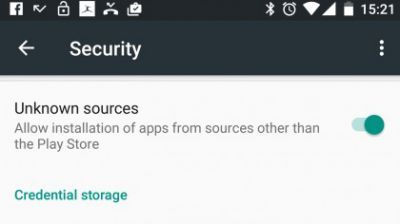 3. Request the Fortnite Installer
While iOS users have been happily downloading Fortnite from Apple's App Store, anyone on Android will have to find a dedicated install file on the Fortnite website.
Players will have to open an internet browser on their smartphone – whether that's Google Chrome, Mozilla Firefox, or Internet Explorer – and go to Epic's sign-up page for the Android Beta, where they can input their email and wait for a invitation to the beta to come through. The email link will direct you to the Fortnite Installer for download.
The install file APK will only take up about 2mb of storage, though the game itself comes in at a more sizeable 2GB.
4. Ok, but what if I have an iPhone?
If you're an iPhone user reading this – unlikely, given the article's headline – then all you have to do is head to the App Store as usual and search for Fortnite in the search bar. You then hit install and wait for the game's icon to pop up on your homescreen or list of apps, safe in the knowledge that 70% of your purchase is going towards supporting Epic's maintenance and distribution of the game.